The 18th annual Danny Rumph Classic is underway, and it's only right that Team Rumph Center got things started.
Game One
Rumph Center, led by Sammie and Shannon Givens, opened up the festivities against Tyrese Martin and Basketball Finders, ultimately failing to complete a near 20-point comeback in a 72-70 loss. 
Martin led Basketball Finders with 17 points en route to the victory.
Rumph Center got off to a rough start, missing its first 10 shots and going eight minutes without a field goal.
Basketball Finders had a few slip-ups, allowing Rumph Center to trim multiple 10-point deficits. Ultimately, Basketball Finders got the job done. Former St. Joe's forward Taylor Funk finished with 18 points, with 13 of those coming in the first half. Darrun Hilliard who 10 points, all of them coming in the second half. Horace Spencer posted the game's only double-double with 10 points and 10 rebounds.
Mike Wilson had a game-high of 23 points for Rumph Center, followed by Shannon Givens's 13.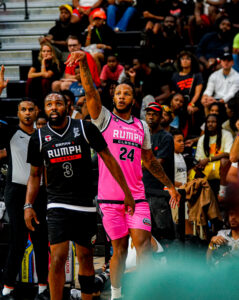 Game Two
Much like Game One, Game Two resulted in a failed comeback attempt in the final minutes of the game as Team 8EYE defeated L.O.E., 60-57 with Philadelphia 76ers forward P.J. Tucker in attendance.
Sixers center "Bball" Paul Reed teamed up with Memphis Grizzlies forward Isaiah Todd to do battle against the Penn State alumni backcourt of Tony Carr and Lamar Stevens. 
Reed won Player of the Game honors for his team-high 20 points and 13 rebounds. Khalif Meares was right behind him with 14 points.
After a close start, 8EYE went on a run to go into halftime up 40-26.
L.O.E. made it competitive again behind Stevens's 17 second-half points. With 1:45 left, L.O.E. went on a run that gave them a chance to send the game into overtime on their last possession, but the stour 8EYE defense prevailed.
Stevens finished with 27 points on the night while Carr finished 15 points.
Game Three
After the night began with two failed comeback attempts, LA Clippers guard Bones Hyland was able to help CheckRock defeat Rex6 65-60. 
Hyland's 25 points were a game-high, and he didn't let the physicality of The Rumph phase him as the game went on.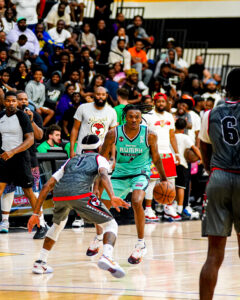 On the game-tying shot late in the second half, Hyland made a three-pointer from near halfcourt to inject momentum into his team.
Former Maryland guard Eric Ayala was Hyland's partner in crime all night, finishing with 14 points and the go-ahead layup.
Wali Hepburn led the way for Rex6 with 15 points, and Jahmair Hanner was right behind him with 12. 
Game Four
After the first three games had been down to the wire the last proved to be a blowout as Blue Magic Defeated The Culture 79-57.
Blue Magic went up early and never let the lead get away cruising to a wire-to-wire win.
Blue Magic was led by player of the game Penn State alum DJ Newbill who had a game-high 17 points and six rebounds followed by Brandon Austin who had 16 points. Temple alumnus Scootie Randall followed with 13 points and five rebounds for the squad.
The only bright spot For The Culture was former Temple basketball player Nate Pierre-Louis who finished the night with 20 points for the team in the losing effort.