Day One of the 18th Danny Rumph Classic was star-studded and action-packed as the best and brightest from the Philly hoops community showed out.
At the Rumph, Day Two has more was at stake as two teams were eliminated from contention. With the stakes being so high, Basketball Hall of Fame and Philadelphia 76ers legend Allen "The Answer" Iverson had no choice but to pull up.
Game One
In the first eliminator of the night, REX6 defeated For the Culture, 70-67, to advance to Saturday's quarterfinals.
Despite leading for most of last night's game against CheckRock, REX6 walked away with a loss. On Friday, history almost repeated itself. 
Up by 14 at the half, FTC allowed Marcus "50 Ruffin" Thomas to erupt for 20 second-half points, his only points of the night, to make it a one-possession game with less than a minute remaining. 
However, 2021 Rumph MVP Wali Hepburn's 20 points and five rebounds, along with a late turnover by Tyree Corbett, were enough to hold on for the REX6 victory.
Three more REX6 players joined Hepburn in double digits as Jaywan Green scored 13, followed by Demetrius Davenport's 13 and Tyrese Reddick's 11. 
Game Two
Failed comebacks have been a theme at the Rumph, and the matchup between Basketball Finders and 8Eye proved to be no different, as the game ended in a Finders 58-57 victory after a strong 8EYE second half. 
Vinny Simpson, who's now coaching the girls at Friends Central, missed a potential game-winning three-pointer as time expired, but still finished the game with 17 points.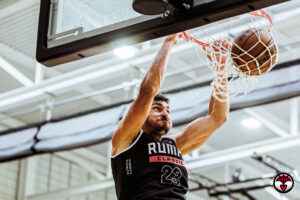 Basketball Finders were able to avoid the loss behind the efforts of Justin "Somebody's Boss" Jaworski and Darrun Hilliard, who both had a team-high 15 points. Hilliard grabbed seven rebounds to seal his Player of the Game honors. Former St. Joe's forward Taylor Funk also chipped in with 13 points of his own.
Khalif "Dolla Bill" Meares joined Simpson in the comeback effort, scoring 16 of his 18 points in the second half for 8EYE.
The Finders now find themselves in the semi-finals on Sunday, while 8EYE will have to play in Saturday's quarterfinals. 
Game Three
Bones Hyland and CheckRock cruised to the Semifinals with a 95-82 win against Blue Magic.
After scoring 25 points in Thursday's win, Hyland delivered a 56-point encore on Friday. 
Friday night lights!!! #savethenextbrightstar pic.twitter.com/M42wPdxpdW

— Rumph Classic (@RumphClassic) August 5, 2023
In the main event of the evening, the teams were filled with stars. CheckRock featured Hyland, former Maryland guard Eric Ayala and New Orleans Pelicans guard Izaiah Brockington.
On the other sideline, Blue magic had former Providence center Ed Croswell, former Penn State point guards Sam Sessoms and D.J. Newbill, San Antonio Spurs guard Jordan Hall, former La Salle guard Ramon Galloway, former Villanova forward Dhamir Cosby-Roundtree, former Iona guard A.J. English and Rumph Classic legend Brandon Austin.
As CheckRock got comfortable with its lead, Blue Magic trimmed the deficit to six points in the second half before Ayala and Hyland caught their second winds. 
Once again, Ayala was the Robin to Hyland's Batman as he scored 22 points.
English and Galloway led Blue Magic with 20 points each, followed by Austin's 17.
Game Four
L.O.E and Rumph Center closed out the night in an elimination game that saw L.O.E advance 72-61.
The former college duo of Tony Carr and Lamar Stevens proved to be too much for the tournament hosts. Rumph Center crawled back getting within one, but Carr, Stevens, and Temple alumnus Shizz Alston, who joined the party for night two, were able to close out a win.
For L.O.E, Carr finished night 12 while Stevens scored a team-high 18.