A quick dribble move and a stepback into a jumper from the free throw line.
Nothing but net.
From the baseline, an onlooker nodded and cracked a smile. 
Philadelphia 76ers co-owner David Adelman couldn't help himself as he enjoyed watching his forward Paul Reed, fresh off a three-year extension to stay in Philadelphia, knocked down a jumper in the first half of his first game in the Danny Rumph Classic Thursday night.
"We're going to get to see what kind of summer he had, right?" Adelman said before the game. "He's going to have it, he's going to bring it."
For both Adelman and Reed, it was their first time attending the Rumph Classic.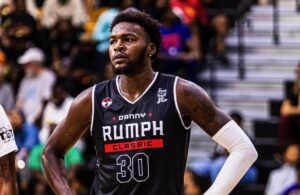 Sixers Chief Diversity and Impact Officer David Gould, who Adelman credits with talking up the event to him, was also court side Thursday night. Adelman and Reed both acknowledged Sixers guard Tyrese Maxey's championship game performance last summer as a driving factor to get them out to the gym.
Another driving factor in Adelman's attendance was Pastor Carl Day, who had lunch with the Sixers' co-owner on Thursday afternoon. Day spent the meal talking about how important it was for people to see someone in a position like Adelman's out in the community and that he could see just how awesome of an event the Rumph is.
"It's one thing for youth to see an NBA player from their team, but also getting an owner," Day started. "The Rumph is a great source of inspiration (for kids) and to see (Adelman) there is huge. I think it's dope."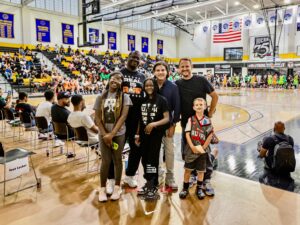 As Day suspected, the spectacle of local hoopers, surprise guests and the city showing out for the night created quite the impression for Adelman.
"I shouldn't be surprised, but I know a ton of people here from all different walks of life," Adelman said. "It's interesting to see how it doesn't really matter where you're from in Philly, but the culture really plays through and everyone really comes together for this."
Reed directly spoke with Maxey about the experience. He was looking forward to getting himself out there for game one.
The matchup for Reed's 8Eye squad put him against a number of Philadelphia-area legends: Lamar Stevens, Tony Carr, Josh Sharkey and their squad of LOE. The talent level on the floor was recognized by Reed immediately. It's part of what drew him to participate.
"I like how all the fans came out here," Reed said. "I like the commentator, the atmosphere, and the energy … I think it's a great opportunity to come out here and get better."
Reed displayed different nuances of his game as he took more of a role in distributing the basketball, bringing the ball up and firing away at jumpers.
Sixers veteran forward and Rumph Classic veteran PJ Tucker watched on as his young teammate put on a show for the crowd. Reed finished with 20 points, 15 rebounds and five assists in 8Eye's victory over LOE. 
"This showed me something that I already know," Reed said. "That this city is a big sports town and they're going to show up and show out."
While Reed and Adelman were both familiar with Rumph's story, Tucker is definitely the most knowledgeable on both the backstory behind the tournament and what the environment has been like over the years.
A big fan of summer hoops for the competitive spirit it brings and how it helps players improve their games, Tucker understands the value in being out at an event like the Rumph Classic.
"It means a lot to me," Tucker said. "I've been coming out here for a long time. My agent and my financial team (are) from Philly and (for) close to 20 years I've been coming out to the Rumph, showing love, checking games out and watching guys play."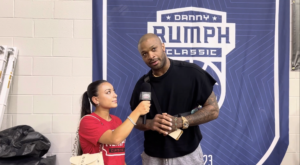 On Thursday night at the Community College of Philadelphia, the local professional team was as visible as ever.
Reed, still at the peak of his popularity with the fanbase, stopped to take pictures in the immediate aftermath of his game and as he walked his way out of the gym. Tucker spent his time chatting up those that approached him and posed for a number of photos. Adelman chatted with Philadelphia basketball luminaries throughout the evening.
Even for those at the top of the basketball world, the Rumph Classic is a celebration of hoops.
"(It feels) like a block party," Adelman said. "People are here having fun on a summer night in an awesome way."